Plantronics Savi Series APC-43 EHS Adapter for Cisco Phones
Quick overview
Electronic Hook Switch- communicates electronically with the phone, eliminating the need for a HL10 lifter. Compatible with Plantronics CS500 and Savi W700 Series.




Compatible Cisco Phones: 6945, 7841, 7861, 7942G, 7945G, 7962G, 7965G, 7821, 7975G, 8841, 8845, 8851, 8861, 8865
Not Sure Which Headset to Buy? Start Here: Have Questions ? 1-800-583-5500
Electronic Hook Switch- communicates electronically with the phone, eliminating the need for a HL10 lifter. Compatible with Plantronics CS500 and Savi W700 Series.
Compatible Cisco Phones: 6945, 7841, 7861, 7942G, 7945G, 7962G, 7965G, 7821, 7975G, 8841, 8845, 8851, 8861, 8865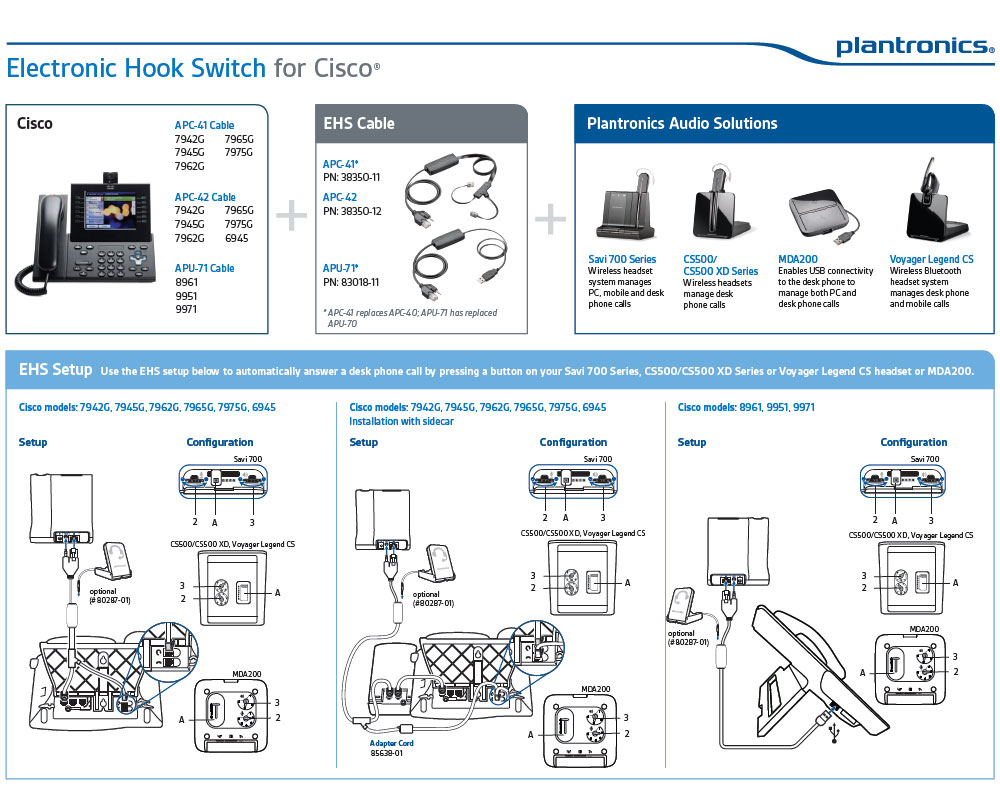 Important Note:
Your telephone system administrator must have "Wireless Headset Hookswitch Control" enabled for your telephone.
Below are the instructions to enable Hookswitch Control feature:
Make sure the CUCM version is 4.1(3)SR5x or higher
Make sure the phone F/W is 8.3(3)x or higher
Access the server administrator with a browser
Select Device > Phone through the drop down menus
Click "Find" with no selection criteria to obtain a list of all phones
Open the desired phone. Scroll down to "Wireless Headset Hookswitch Control", set to "Enabled", Click "Apply"
Reboot the phone
| | | |
| --- | --- | --- |
| Manufacturer | : | Plantronics |
| Related Part Numbers: | : | |
There are no downloads for this product.
Customer Reviews
There have no reviews in this product.
Add Your Own Review