Why Plantronics Just Acquired Polycom
On Wednesday March 28, 2018, Plantronics and Polycom announced that their respective boards unanimously agreed to a 2-Billion dollar acquisition of Polycom by Plantronics. The companies will continue to operate as separate entities until the deal closes by Q3 2018, when Polycom officially joins Plantronics Inc.
Plantronics says that Polycom's analytics, data as well as their portfolio of video collaboration products, voice collaboration products, and services will aid the corporation in achieving its new vision for the future. This vision, essentially, is to provide a portfolio of integrated UC products and services that cater end-to-end solutions to open office and enterprise environments. More on Plantronics' vision in the coming paragraphs.
With the announcement of the acquisition came a message from Joe Burton, the President and CEO of Plantronics. He stated:
"With the addition of Polycom's solutions across video, audio and collaboration we will be able to deliver a comprehensive portfolio of communications and collaboration touch points and services to our customers and channel partners. This will put Plantronics in an ideal position to solve for today's enterprise collaboration requirements while capitalizing on market opportunities associated with the evolving, intelligent enterprise."
Plantronics is smart to pivot from headset manufacturer to UC solutions provider. With every passing day, businesses want more and more a simple and unified platform for communication and collaboration. In fact, Cisco Inc., a dominant player in the networking and UC industries also sees the opportunity in providing complete UC solutions and is extending their own portfolio with new products and services.
One key component of creating a global UC platform is designing integrated and interoperable hardware, software, and firmware. Plantronics has made it clear that this is a priority with its new vision. The other vital aspect of a global, useful UC platform is integration with products and services that are already being used; this includes programs such as Microsoft Teams, Slack, Salesforce, and more. Plantronics did address this, but with a little less confidence than we would have liked. Buried in their long-winded 'Forward-Looking Statement', Plantronics notes that the success of their new vision is reliant not only on their ability to design integrated products/services, but also on the willingness of Microsoft, Cisco, Avaya, Alcatel-Lucent, and Huawei to adopt and integrate with their solutions.
With that said, we are optimistic that at least Microsoft will be quick to integrate with Plantronics. The companies recently collaborated on a visionary conference phone that uses your mobile phone as its brains. This product introduces a new level of convenience with the ability to access your phones contacts, calendar and more. This may very well be the first product Plantronics developed with their new vision and is likely one of many products to come in their new UC-inspired portfolio.
Now that we understand Plantronics's new vision and the rationale behind it, let's investigate why the board agreed, unanimously, that Polycom has what they need to implement their vision. In a publicly available document intended for investors, Plantronics breaks down their reasoning for the acquisition. We found this slide that outlines exactly the different parts of Polycom that promote their move to UC platform provider: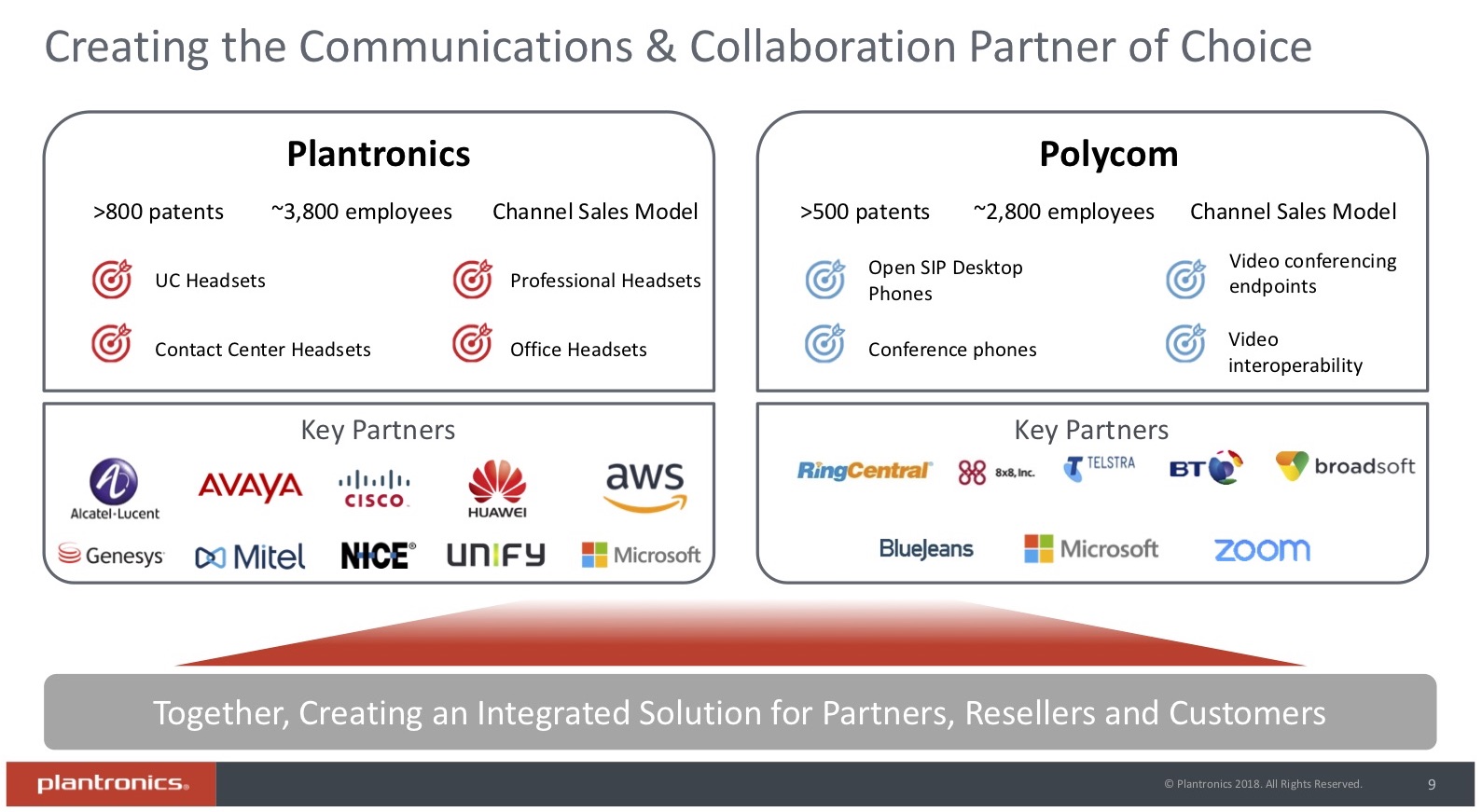 Once Polycom officially becomes a member of Plantronics Inc, they will have between them over 1000 patents, over 6000 employees, and more importantly, all of the key technologies that are involved in a complete UC platform. This way, Plantronics can utilize Polycom's years of data, research, and product design in creating their new line of products and services.

We don't expect Plantronics to release any more new products before the acquisition closes in the third quarter of this year, but we certainly are excited to see what they put out late 2018/early 2019 with their new unified communications objectives.