The Best Headsets for Loud or Noisy Offices

Nowadays, there are so many headsets on the market that all of the options can be a bit overwhelming. That's why I've written this article: to guide you through the vast modern world of headsets so you can find one best-suited for your needs. The most important aspect to consider when buying a headset is making sure it meets the demands of your environment. For example, in a loud call center, you'll need a good noise-cancelling binaural headset. Adversely, almost any headset–be it monaural, binaural, headband, neckband, or earhook–will excel in a private office environment. The best advice that I can give you at this point is to make sure you aren't drawn to the headset's looks over its features & functionality.

Wired Headsets
Sennheiser SC260 – $139 USD
This headset excels in office environments and call centers.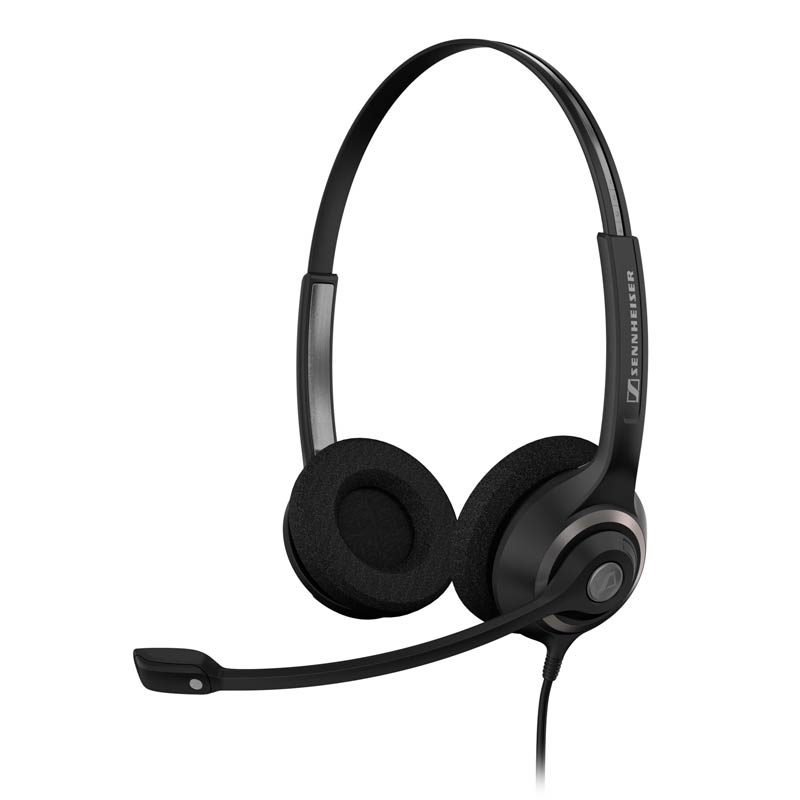 The Sennheiser SC260 is a binaural headset by Sennheiser. The device features a noise-cancelling microphone, wideband audio, and digital signal processing (DSP) Where this headset really stands out is in the next couple of features: For one, the mic boom is flexible and rotates 360 degrees (all the way around!), giving you a full range of motion to set up the headset's microphone in the position that suits you best. Also, Sennheiser's impressive ActiveGuard hearing protection defends your ears against loud noises that would otherwise startle you or even damage your hearing. It accomplishes this by softening loud noises. This is unlike some of the solutions we've seen from other manufacturers (@Jabra @Plantronics), who, instead of softening sharp noises, eliminate them altogether. Sennheiser simply quiets loud sounds as to minimize lost audio, all the while, protect your hearing. This is an impressive, industry-leading technology. Another neat feature of this headset is the CircleFlex speaker technology. The speaker's padding conforms to the user's ear on several dimensions to promote comfort and maximize noise blocked.

The review for the SC 260 is that it's durable, inexpensive, and a great noise canceller. Many call centers are pleased with the call quality & voice clarity, and because of this, it is one of the more popular headsets in today's market.
VXi Passport 21G – $109 USD
This headset excels in office & open-office environments and call centers.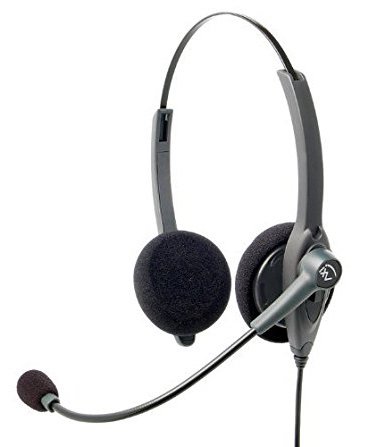 VXi boasts that it's advanced 'noise cancelling microphone eliminates nearly 90% of background noise'. And you can take to heart; VXi really is a leader with their noise-cancelling microphones, and the mic on this headset is no exception. This headset was designed with the call center in mind. It's great for all-day usage among several background conversations. The headset's mic boom rotates 300 degrees around and is also flexible like the one you'd find on the Sennnheiser SC360. You can pick up the 21G in a monaural or binaural configuration. They offer versions compatible with Jabra, VXi, and Plantronics Quick Disconnect or you can ditch QD altogether in-place for a universal and direct RJ9 connection.

The P21G offers the most bang-for-your-buck of any headset on the market today. It's incredibly inexpensive, but you'd never guess it. The flexible gooseneck arm is no-doubt the best way to do a headset mic. And, this headset is a mean noise-canceller; as one of our experts, Blanka, told me: "You get your money's worth–and them some".
Jabra Biz 2300 – $135 USD
This headset excels in offices, call centers and private offices.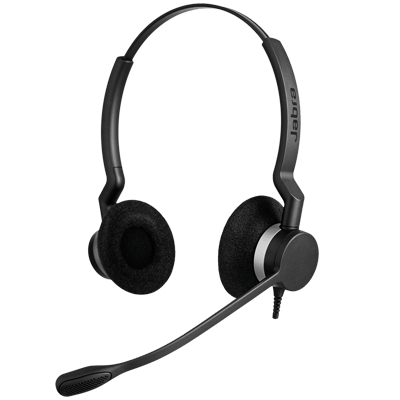 The Jabra Biz 2300 is the most widely beloved wired headset in offices around the world. Users love its impressive call-quality and comfort level. You can pick up this headset in binaural or monaural configurations. Both use a single wearing style known as 'headband' or 'over-the-head', which features a headband to secure the device in-place. As you'd expect, the audio signal is wideband, Hi-Fi and uses DSP. On top of the great audio specs, Jabra implements their SpeakTone, PeakStop, and Intelli-Tone technologies to optimize call clarity and eliminate sharp and potentially damaging sounds. It uses an 'air anti-shock' microphone: designed to defend against air disruptions, like the inevitable draft created by speech, movement, or an air conditioner. Surprisingly, this feature alone improves sound across the board and is the reason that this mic is one of the best on the market. This neat microphone attaches to the headset via a 360-degree swiveling boom arm, so you can position the mic wherever it sits best near your mouth.

The Biz 2300 is one of the most popular headsets in today's market, and for good reason. The binaural option excels in open-office environments, and, the monaural option is a great headset for private offices. Basically, whatever your application, there's a Biz 2300 that's right for you. The headset is notably lightweight and comfortable; it even features ultra-soft leatherette ear cushions on the base model! In addition to all this, it's a top-tier noise canceller and can definitely withstand some louder open office applications.
Jabra Biz 2400 II – $199 USD
This premium headset excels in office & open-office environments and call centers.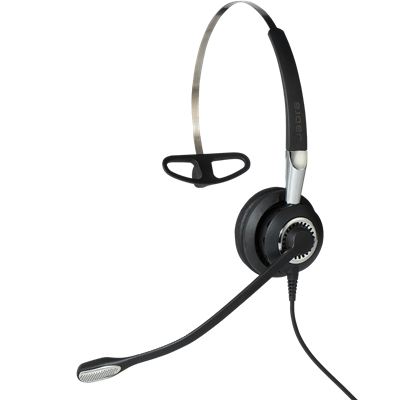 This headset is essentially an upgraded Biz 2300. They work very similarly, and share many features; however, the Biz 2400 II uses premium build materials and is considered more of a luxury item. Also, Jabra backs their 2400 line with a 3-year warranty, a whole year longer than the 2-year warranty on the 2300. This is one of our favorite headsets at Call Center Products because you can tell that Jabra designed it with pride, for the daily headset user who wants a piece that feels sturdier than your typical headset.



Wireless Headsets
Sennheiser SD Pro 2 – $459 USD
This premium headset excels in office & open-office environments and call centers.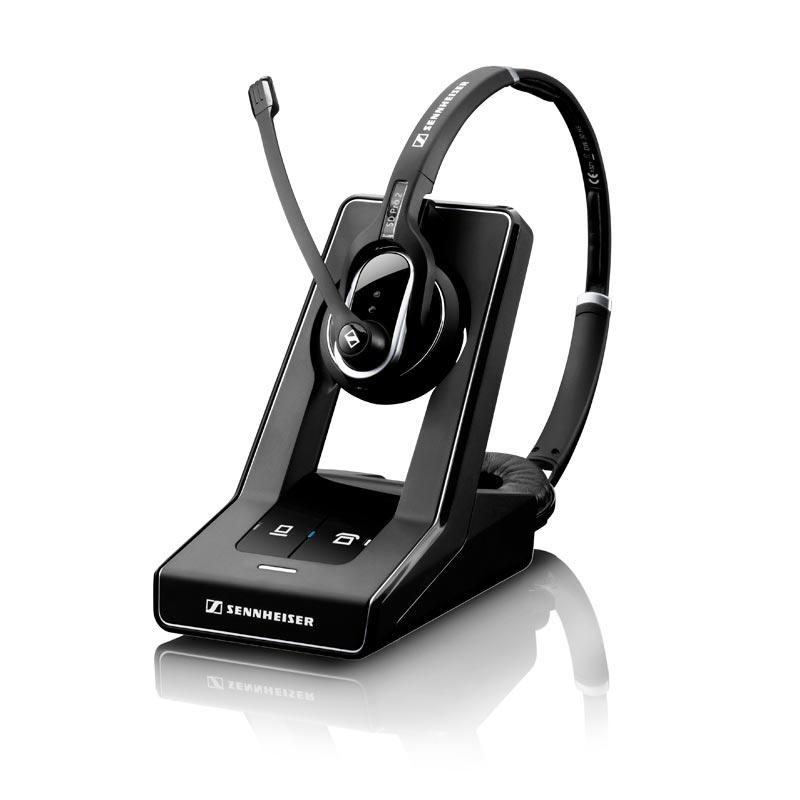 The Sennheiser SD Pro 2 is a great take on a classic wireless headset. It features a binaural headband design made with all premium materials. The device connects to both your deskphone and your softphone; a feature we're seeing on more headsets with every passing day. Sennheiser has also equipped this headset with their ActiveGuard hearing protection, which softens loud, sharp noises. The headset also uses a noise cancelling mic and Sennheiser's own HD Voice Clarity technology to optimize your call audio. The device can be used for 8 hours on its wideband setting or 12 hours on narrowband before you'll need to charge it. It has a range radius of 180 feet in any direction from the base; so, you'll be able to get around all or most of your office all without any connectivity issues. Also, since the headset's base offers multi-connectivity with your computer through USB, you can switch between your deskphone and your softphone with ease.

This headset is what you'd call 'top-of-the-line'. It excels in two specific areas, and that alone puts it above many similar headsets in the market. First, the SD Pro 2 is a great performer in noisy and/or open office settings. This can be credited to the binaural deign, smart firmware, and noise-cancelling mic that work together just wonderfully. The second area where his headset stands out is in its simple set up, usage & maintenance. From the color-coded connections to the one-touch setup, Sennheiser really took great pride in this design.
Plantronics CS520 – $349 USD
This headset excels in office environments and call centers.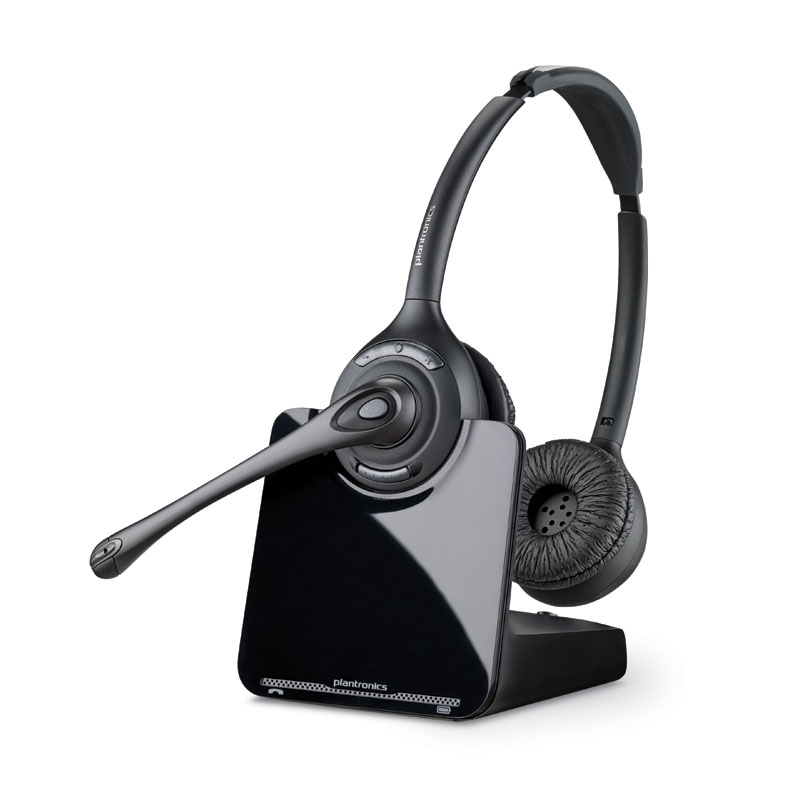 Plantronics' CS520 is a performer. The microphone is attached to the headset via a flexible boom arm, that way the user can choose where exactly the microphone sits on their face. Plantronics has also integrated their SoundGuard technology to cut off loud noises and preserve your hearing. The base takes advantage of CAT-iq technology, which allows for seamless connectivity with your IP network. The headset is only available in one wearing style: a binaural configuration with a headband. This device is notable for its large ear cushions (which, surprisingly, makes it a great deal more comfortable) and very simple setup and usage. The sole downside to this headset is that it is a bit behind modern expectations for range, with only 350ft of range with a direct line of sight.
Jabra Pro 9450 Dual – $375 USD
This headset excels in office & open-office environments and call centers. It also features dual-connectivity and is optimized for UC applications.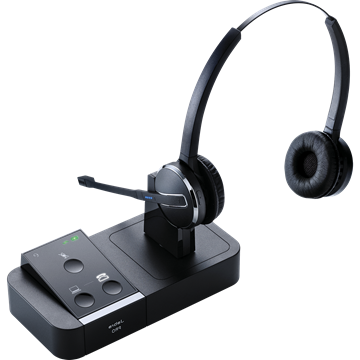 The 9450 Dual from Jabra is one of their most successful headsets. The Dual has one speaker which can be used in any of three wearing styles: headband, neckband, or earhook. The headset also features a flexible boom arm with a noise-cancelling microphone at the end. To preserve your hearing, Jabra's integrated their SafeTone technology which eliminates loud, potentially harmful noises. This version is called the 'Dual' because the base connects to your computer and your deskphone simultaneously, and allows you to switch between them seamlessly. The battery will last you 9 hours of wideband communications, or 11 hours should you choose the lower-quality narrowband frequency instead. The headset is not only super light-weight and comfortable, but it's also one of the easiest to use, much like Sennheiser's SD Pro 2.

USB Headsets
Plantronics Blackwire 520 – $99 USD
This headset excels in office & open-office environments and call centers. It also features dual-connectivity and is optimized for UC applications.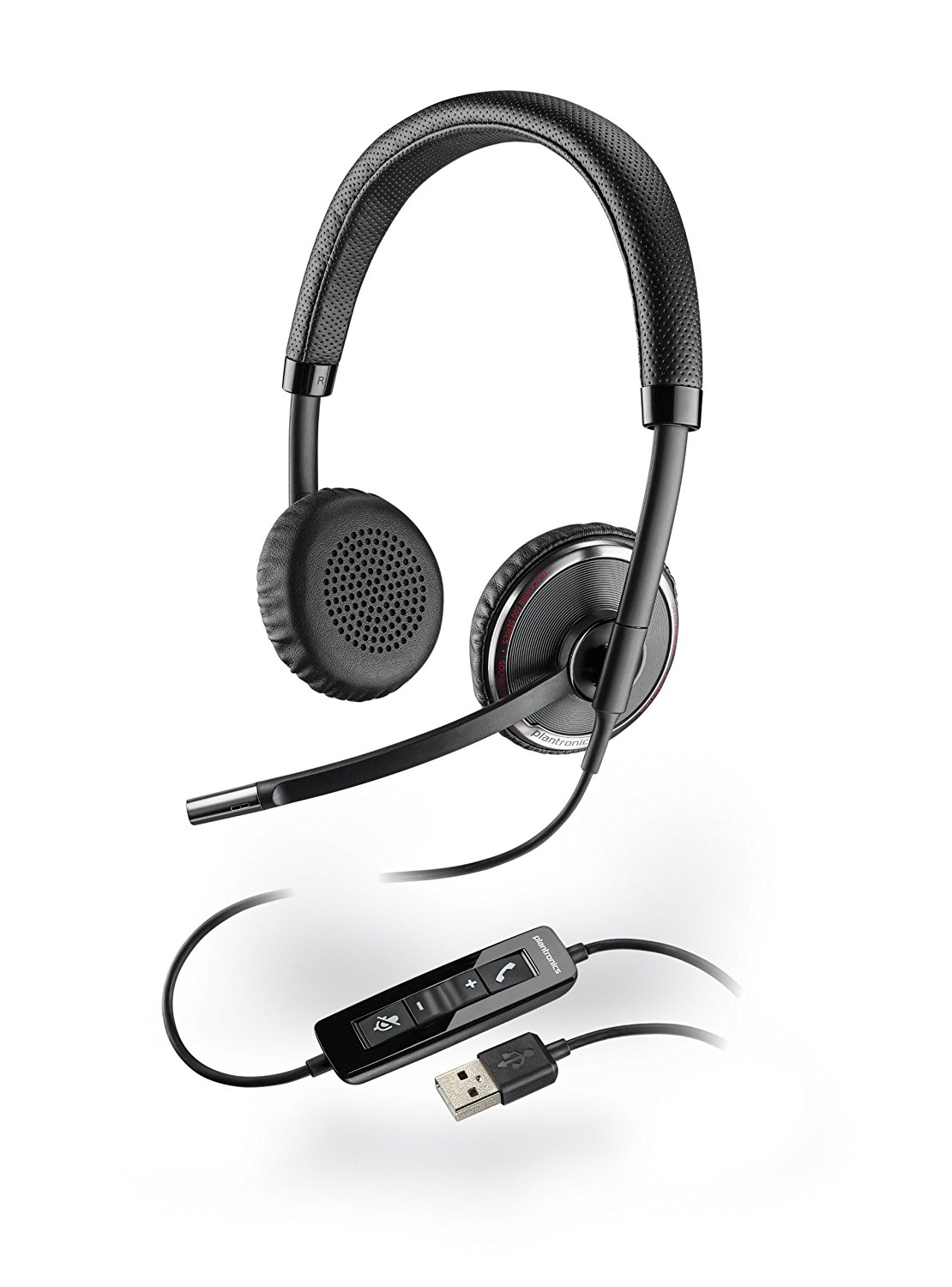 This headset is one of our all-time favorites. The Plantronics' Blackwire 520 USB headset is a comfortable and reliable option that excels in both home-office and open-office settings. The headset uses a binaural design with a nicely padded headband. There is a noise-cancelling microphone which attaches to the device via a rotating boom arm. For audio technology, it uses Hi-Fi wideband stereo audio; the stereo feature makes this device not only great for calling, but for music and entertainment as well. This headset is clearly targeted toward softphone and UC users. It's optimized for UC applications in general, and has specific optimizations for Avaya, Cisco, IBM, and Skype (MS Lync) applications. You can control volume and mute using the inline controls. NOTE: If you are looking for a monaural option, consider the Blackwire 510. If you are looking for monaural and only using Microsoft Skype or Lync consider the similar Blackwire 510.
Sennheiser SC260 USB -$159 USD
This headset excels in office environments and call centers. It also features dual-connectivity and is optimized for UC applications.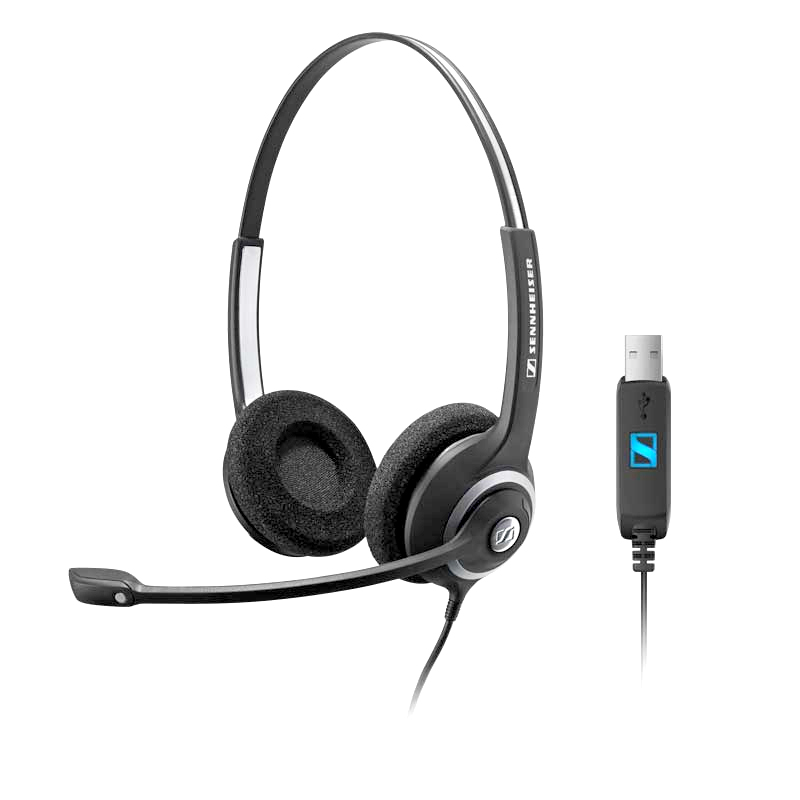 The SC260 USB headset from Sennheiser has all of the features we mentioned in the description of the SC260, only it connects to a computer via USB and has optimizations for your softphone or UC application.
Jabra Biz 2300 USB – $160 USD
This headset excels in office environments and call centers. It also features dual-connectivity and is optimized for UC applications.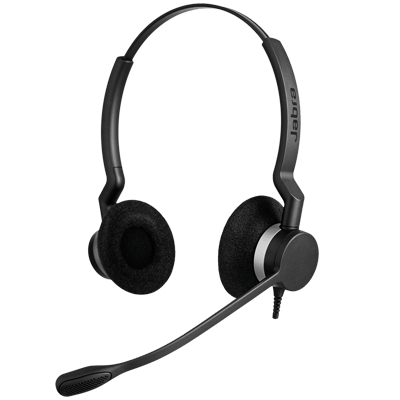 This headset is a version of Jabra's beloved Biz 2300 headset, only it uses a USB connection instead of Quick Disconnect. They offer two USB versions: one that is optimized for general UC and another optimized specifically for Microsoft Lync & Skype for Business.