VXI's BlueParrott C400-XT
BlueParrott's new C400-XT is the most versatile headset for heavy indsutry environments. With this headset, the people at VXI wrapped industry-leading technologies from their B350 headset in a modular design. The C400-XT is BlueParrott's first convertible device for heavy industry applications. Though VXI previously released their convertible Xpressway and Xpressway 2 for light industry use, those devices excel in quieter environments with less time between charges. The C400-XT, however, is built to handle the loudest environments and longest shifts.
This headset stands out with industry-leading battery life, noise-cancelling, and durability. It is clear that the BlueParrott team designed the C400-XT with industry, construction, and transportation close in-mind.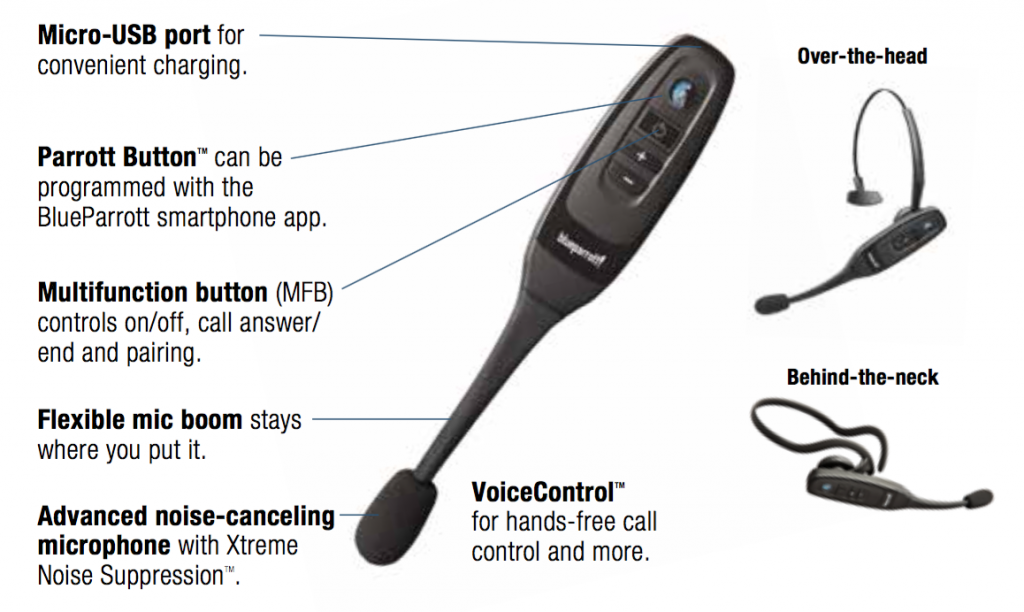 Performance
Headsets used in industry applications see more wear-and-tear than in an office setting. Because of this, durability is one of the pillars of the BlueParrott brand. And the C400 is no exception-it's built with sturdy, water-resistant materials that are rated for temperatures as low as -22 Fahrenheit (-30 Celsius). Another potential deal-breaker for industry applications is the long shifts. For this, VXI promises over 24 hours of talk time between charges, and more than 500 hours on standby. Since warehousing, construction, and other industries use large-facilities, the headset is equipped with class 1 Bluetooth for up to 300 feet of range in any direction.

Flexibility
This headset is convertible, which means there are a couple different ways you can wear it. The neckband option secures the headset using a plastic piece that goes behind your neck, whereas the more classical headband uses a plastic band over your head to keep the headset in-place. In addition to wearing options, the headset is offered with both leatherette and foam ear cushions. We recommend leather for comfort, but if particulate matter is a concern you may want to stick with the foam version. Another key feature of class 1 Bluetooth is multipoint sharing, which allows pairing with up to 2 phones simultaneously and 8 more devices saved on the headset.

In short, BlueParrott's new C400-XT is a convertible, long-lasting , noise-cancelling machine with important features like 2 different wearing styles, 24+ hours of talk time and 96% effective noise cancellation! Get your C400-XT here at headset.com.